Behind the scenes
Follow these images for a peek behind the scenes to discover what goes into the creation of Amazar Avian sculptures.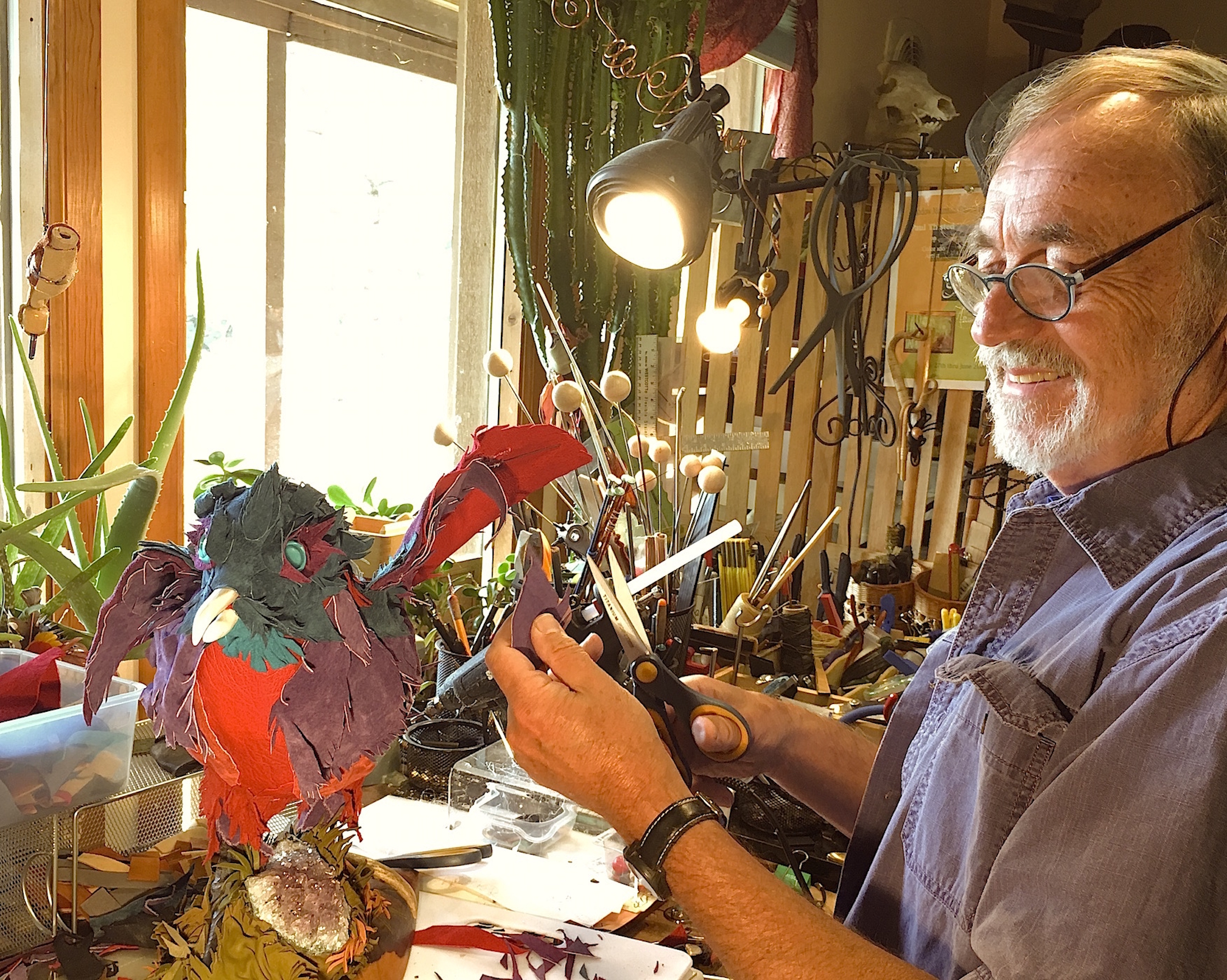 Creating an Amazar Avian
Artist's note: I do not condone the taking of an animals' life for commercial use. Yet, like many who believe in animal rights, I see no honor given to the sacrifice made by discarding the animal hide when it is no longer desired for use in it's current form.
In recycling leather I pay homage to that life and the animal's spirit by gifting it renewed purpose as a piece of art.
My one-of-a-kind creations are crafted from recycled vintage leather garments, old leather furnishings, assorted found and manipulated objects. Scuptures are assembled using a variety of industrial low-e adhesives. Embodied in piece is the desire to celebrate the raw, natural, organic nature of my materials.
To achieve imaging, the leather has been cut, skived, manipulated or fabricated to enhance the texture, grains shapes, colors and contrasts inherent in the leather, the original tanning/dyeing process and daily wear experienced during the leathers previous existence.
There is an aspect of sustainability and recycling that forms the foundation for my creations. The leathers I use are found objects, regects from garage and estate sales, discards from the racks of resale shops, remnants and sections of damaged furniture, or articles of colorful leather clothing traded or gifted to me from clients.
All my materials are unbound from their original use. Hence the name of my art studio "Unbound Leathers".
The leathers I use are not re-dyed, not wishing to contribute to the polluting of the environment and to embrace as well my interaction with the leather and its prior use and wear. Consequently my visual pallet is limited to whatever colored leather I can find. When that segment of deconstructed vintage leather clothing is used up it can never be recreated.
And, I must admit, as an artist working with found objects, there is a certain pleasure derived during my quest for leathers of certain texture, thickness, color or hue.
Your purchase and support helps sustain my efforts to operate an ecological crafts studio in the Colorado Mountains.
Thank You
Ron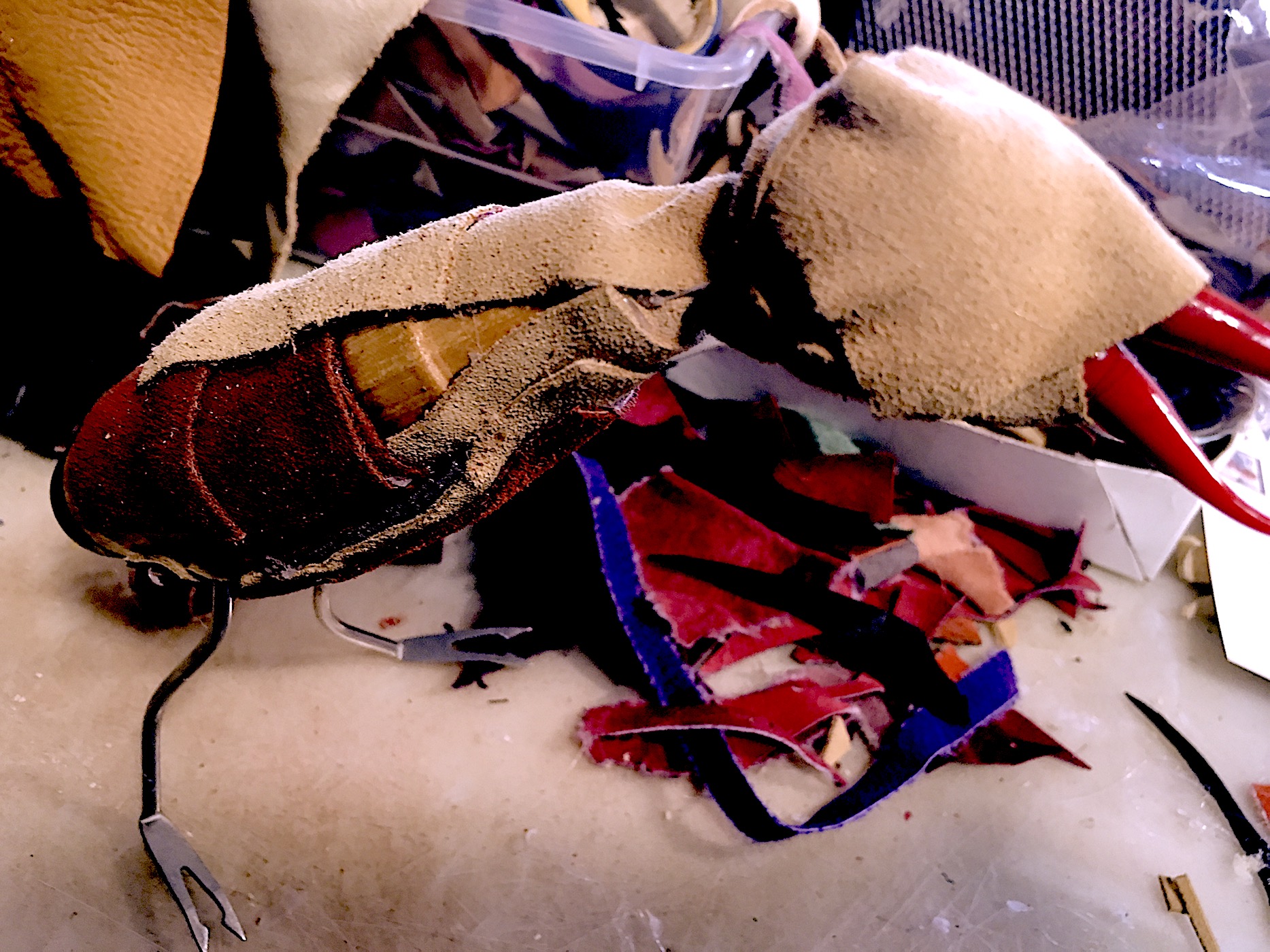 Hatchling
A wide variety of found objects and scapes of leather are modified and manipulated to form the armatures of the Avians.
Birthing a Flock
I'll often start with choosing the beaks from my collection of old vintage beads, crystals and stones. The beaks serve to help define the different species of Amazar Avians and their attributes.
Next come choosing various found object body parts and cobbling together sections of old wood tools, utensils, fondue forks for legs, bits of old metal rods and such.
My intent is to bring a variety of components together in way that gives the concept form, helps develop an Avian's body language, attitude and general characteristics through altering its shape and the positioning of the neck, head and beaks.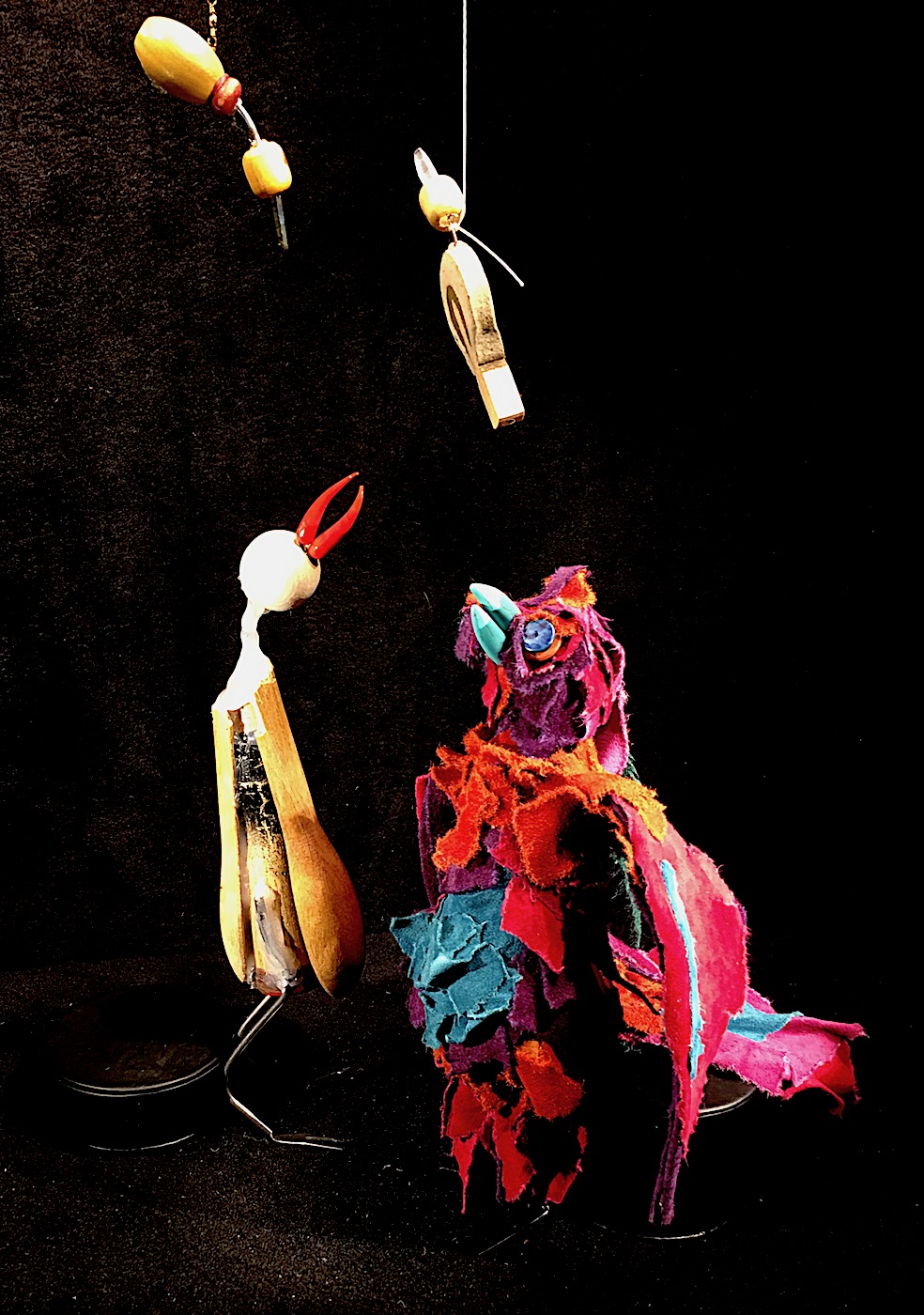 Fledgling
I'll often create a series or group of Avian armatures (the underlying frameworks of a sculpture) and live with them for a while to get a sense of who they might become before choosing one to bring to life.
A sixth sense guides my hand to manipulate their form. Their personalities evolve over hours and days as the process of creation continues.
Atop the armatures, seqments of leather chosen for their color and texture are layered around of sections of repuposed wire to help form bendable wings, tail feathers and other body parts.
Tufts of carefully cut and torn leather are bonded to the form and each other using industrial adhesives to create layers of feathers that fan out and beg to be caressed.
Eye sockets, eyes, lashes and plumes fashioned from bits of leather, stone, glass, beads, buttons or other oddities are added to complement their emerging personalities.
And from out of a pile of cast away components something that never existed before is brought to life.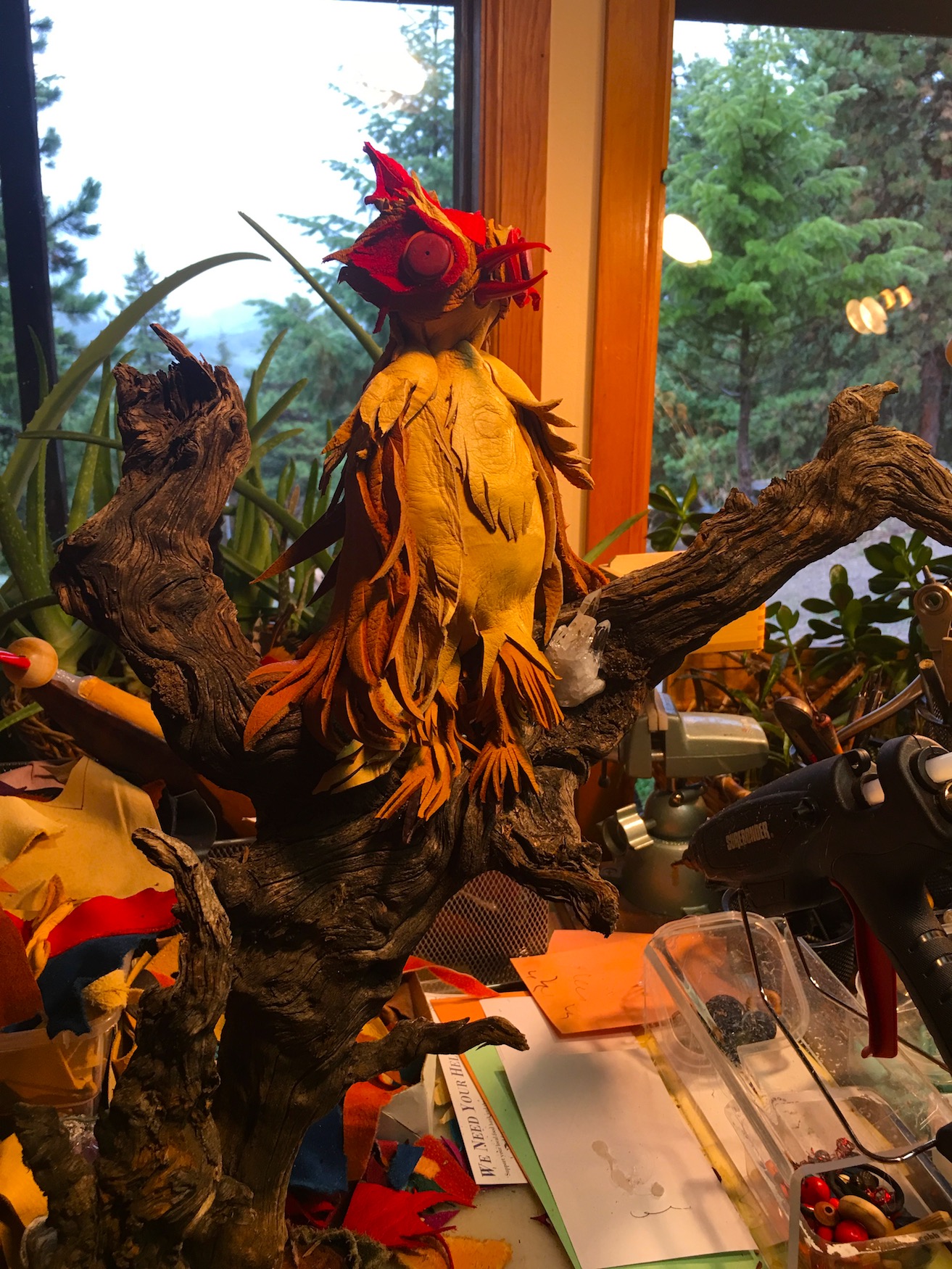 Getting ready to leave the nest.
As a sculptor of small objects, the sculptures evolve and take form in numerous stages on my cluttered work bench where they are continually refined and modified
Avians are not ready to leave the nest until the colors, textures, shapes and forms are visually interesting and appealing from all views.
After weeks of living with them, hints of their personalities come across as you view them and they are finally ready to take on a name or be released for adoption.
A Gathering
Throughout the year I bring together a gathering of my artwork at shows and festivals for release into the world.
Contact me for a list of upcoming events or come experience my work at Shadow Mountain Gallery in downtown Evergreen Colorado.